Introduction :
The Purpose of this tutorial is to Demonstrate the New introduced Web Axis2 Web service Tool using WTP 2.0 Driver .This tutorial will show how to develop a simple Web Service and Web Service Client Using JAVA . We Create A simple Web Service Containing Java Class Which Concatenate two Input String Value .
Pre-requisites :
JDK (1.6 or above )
Eclipse WTP 2.0
Apache Tomcat Server (5.5 or above )
Axis 2
Downloads :
Configuration :
Install JDK and Set Environmental Variable Path .
Download Eclipse .
Download Axis2 and Unzip it In a folder You like.
Download Apache Tomcat Server And Unzip It .
Configure Environmental Variable :
In Windows Xp go to MyComputer –> Properties –>Advanced –> Environmentalvariable  Add System Variable . Give the PAth of the Bin Folder Where install Jdk .
Check this By opening Command Prompt and type Javac . If you get Error then You Miss Some Installation Step or You did't Set Up environment Variable Correctly .
After Successfull setting of Environmental variable Run Eclipse And Set first Apache Tomcat Server .
Configure Apache Tomcat Server :
Open Eclipse And goto Windows –> Preferences –> Servers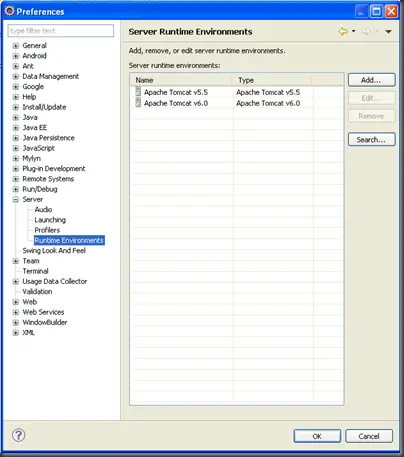 Then Click Add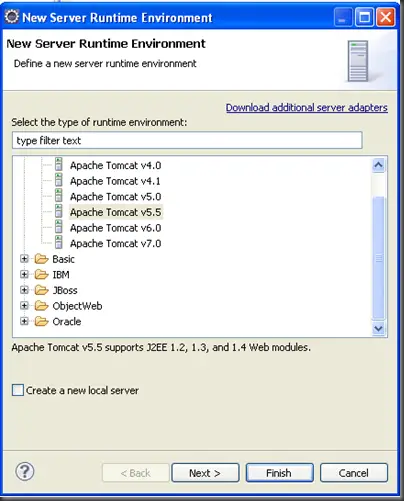 Select The Server (Apache Tomcat V5.5 or Above ) Then Click next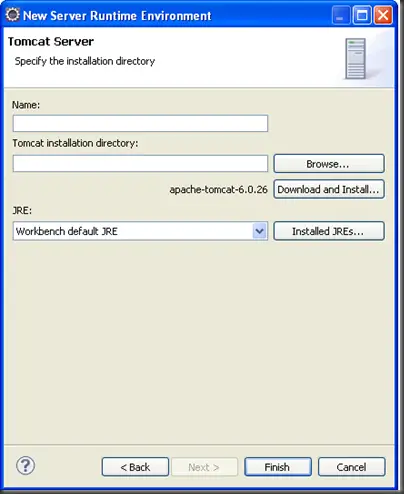 Now Give The Path of the directory where You Unzip the Apache Tomcat server or Click the download and Install Tomcat . Set JRE Path .
After Configuration Of Server Configure Axis2
Configure Axis2 :
Download Axis2 And Unzip It in a Folder You like .
Open Eclipse goto Window –> Preferences –.> webServices –> Axis2Preferences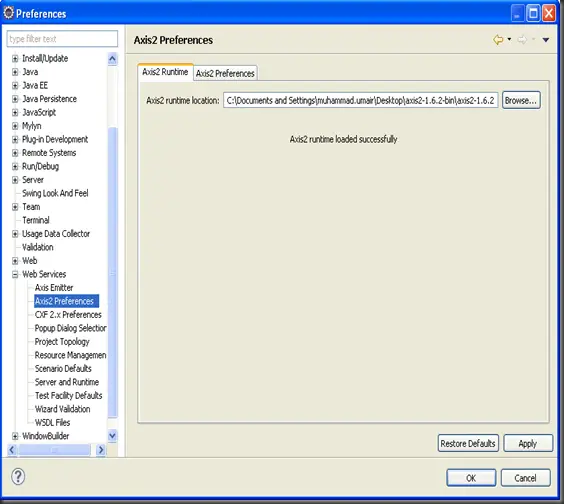 Now give the Path of the Bin Directory of Axis2.
Web Service :
Open Eclipse And Form Dynamic Web Project  File –> New –> other –> Web –> Dynamic Web Project.
Give the project Name as Axis2Example . Set Apache tomcat as Runtime Server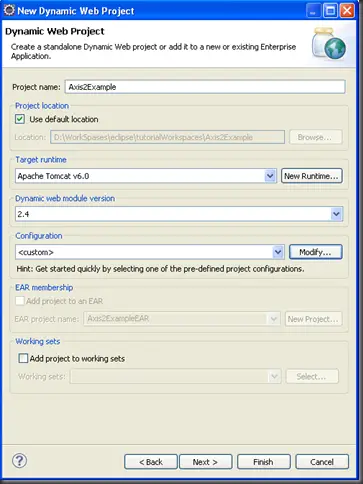 Then Give Axis2 Web Service Facet .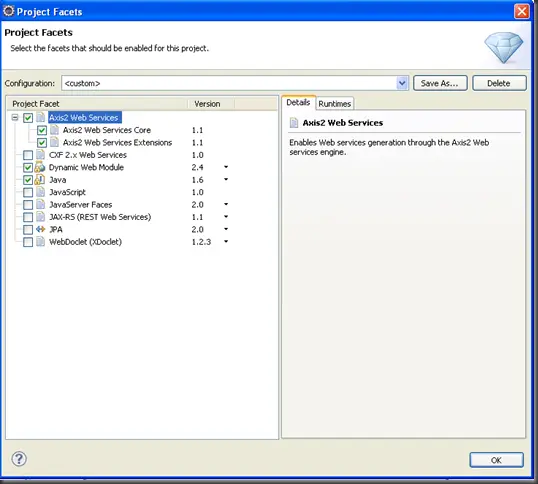 Then form a Package Name it as com.classes Add java Class in This Package Name as Concatenate.java
The Project Structure Look Like This .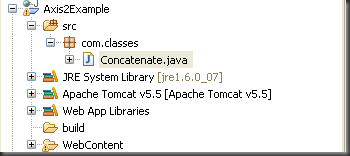 The Class is as under
Right Click on the Class And Form it As a Web Service .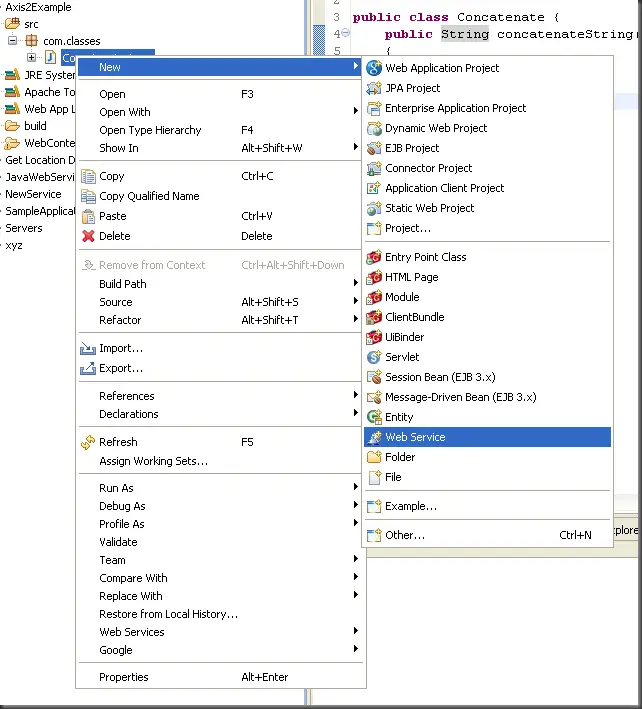 Then Web Service Configuration Starts . select Bottom Up java Bean WebServices .
Select Tomcat Apache v6 as server .
Select Apache Axis2 as webservice Runtime Click ok.
click ok.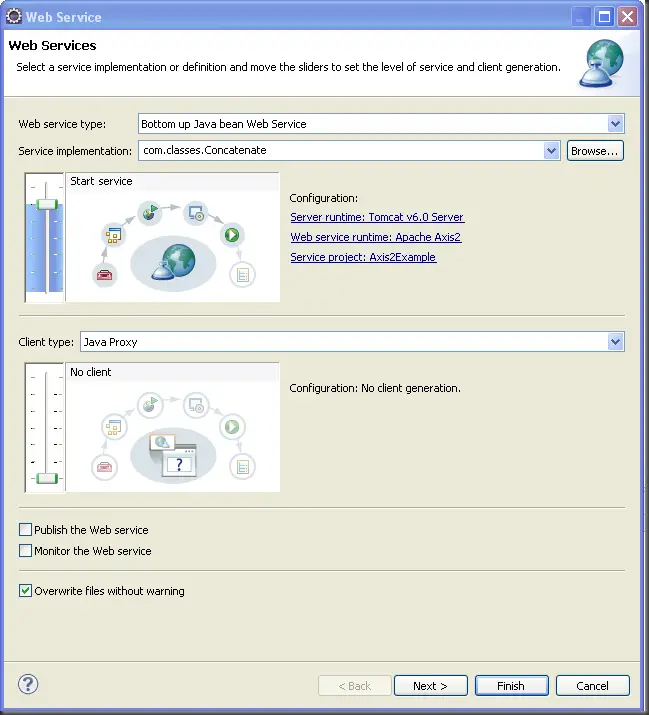 Click Next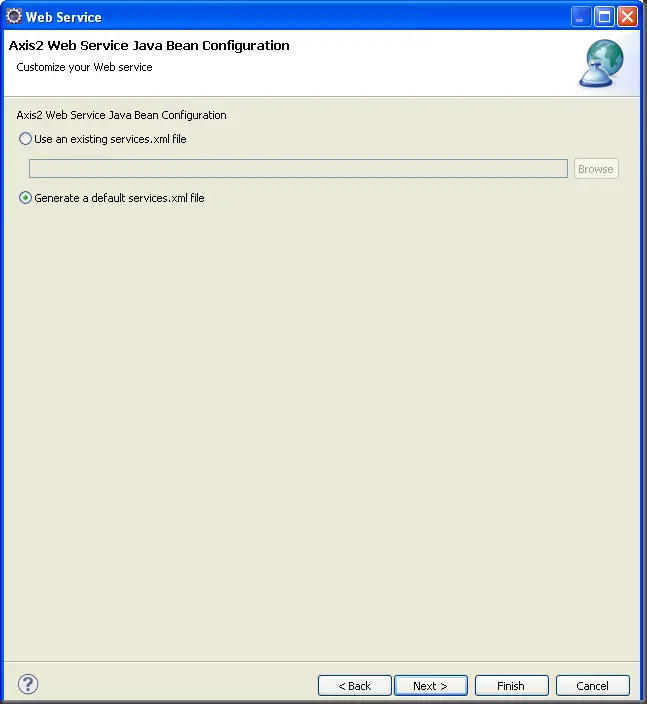 Leave these settings as default  Press Next .
Then Start Server if not Started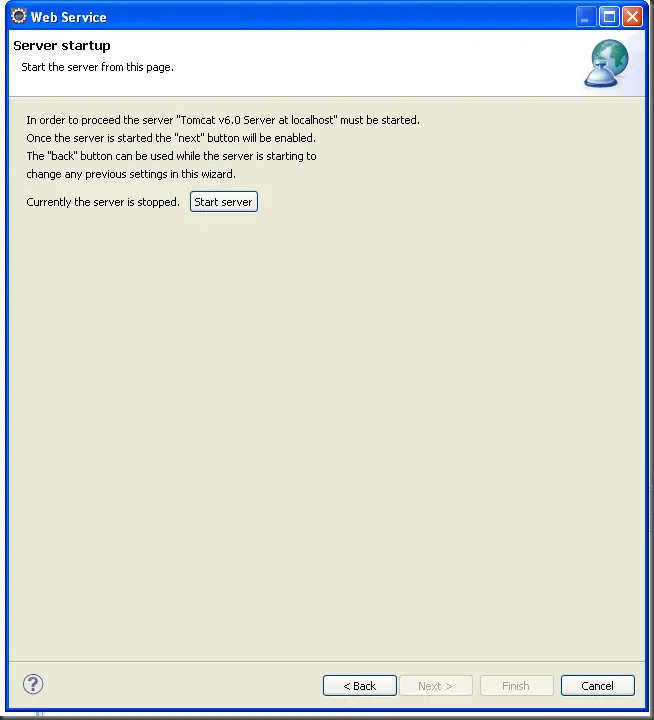 Then after Server Starts Click next.
After that Right Click on the project and run it as Run on server .
Then Select Apache Tomcat v6 as Server .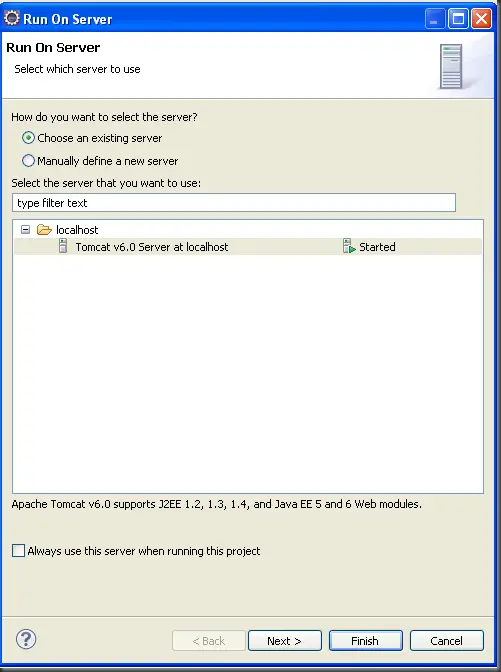 Then Click Next .
Your Project Axis2Example must be on the right side  then Click finish.
The server Will deploy Your Application as a Web service and this is the main page of  your service .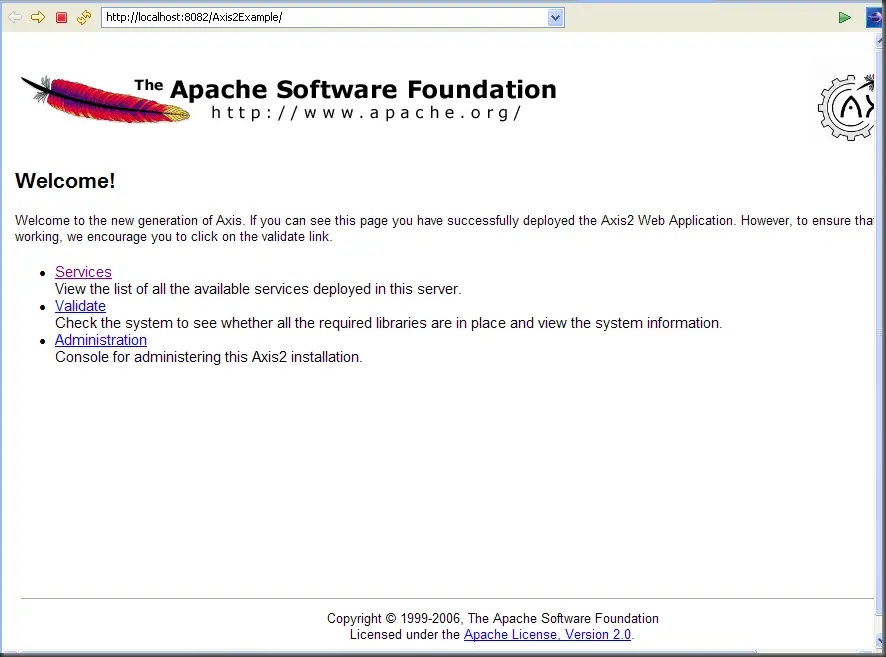 Then click on the Services To see The available Services .
In This tutorial We only Form one Service Class Name Concatenate and its service as ConcatenateString.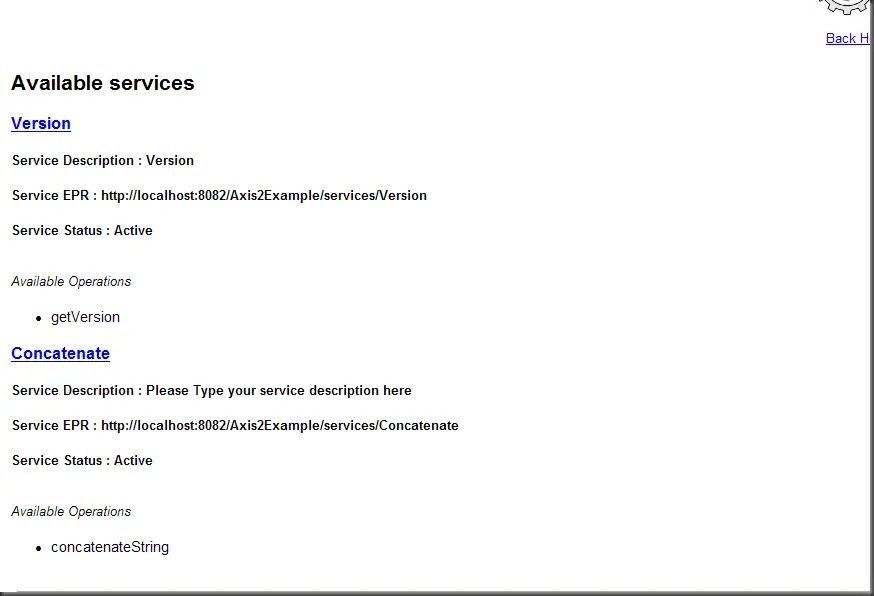 Click on the webService Concatenate to See The WSDL file. Copy that path .
We successfully Create and Deploy  the Web Service Now we are going to form the Web Service Client To call The Web Service .
Web Service Client :
Go to File –> New –> Other –> select new web server Client.
Click Next .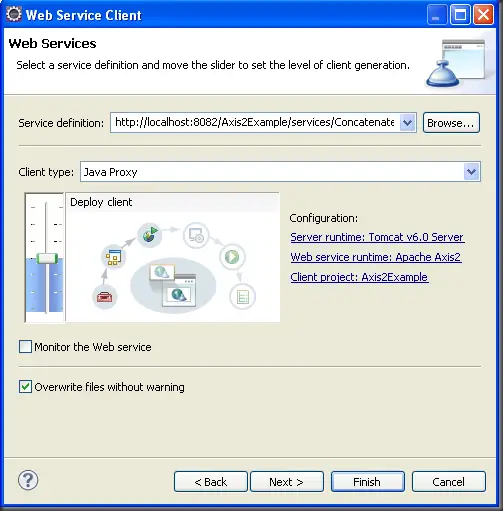 paste the URL of wsdl file here in the Service Definition .
Select Tomcat V6 as Runtime Server and Apache axis2 as Web service runtime.
Select New Dynamic Name as WebServiceListener  Project as Client Project .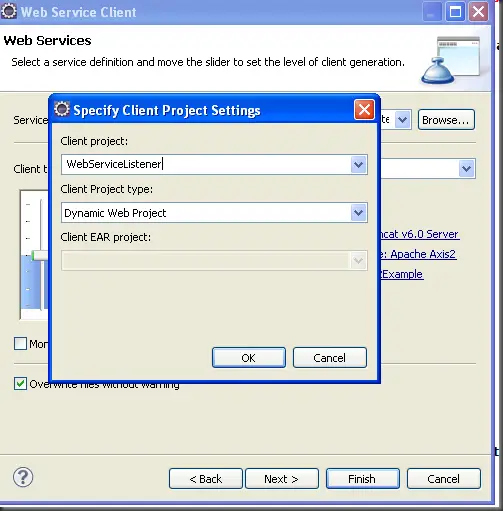 Click ok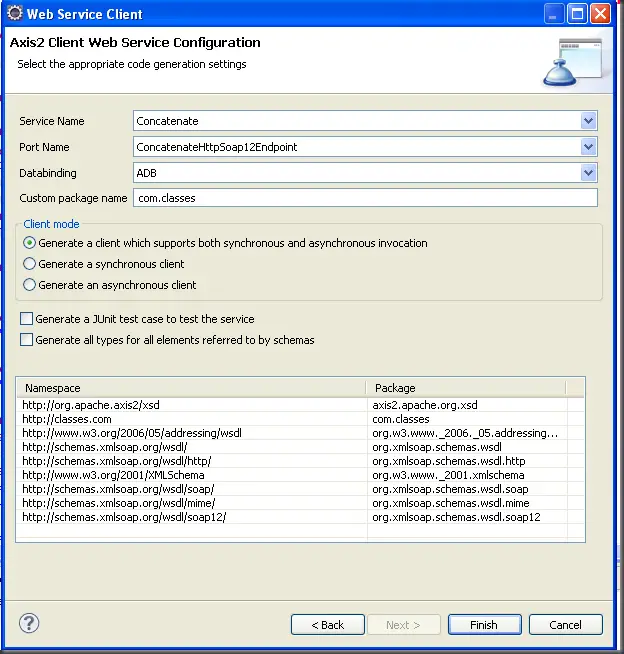 The Structure of Web Server Listener is as under :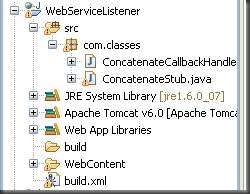 Now Form Java Class having Main function in order to call that service .
Name It ClientCall or any other Name You Want And select public Static void Main (String[] args).
Click Finish.
Then Right Click on the File and Run it as java Application .