Add Extra Screen to Broken MacBookPro
Add extra screen to broken MacBookPro must not be a very hard task to do for an IT admin. There may be many issues which can create problems. Sometimes even minor issues create big problems. Recently a customer brought a MacBookPro with broken screen. I purchased a new Type-C Hub and tried to connect the additional screen with it. It was showing a blurry screen. I tried most of the combinations but nothing worked till I found this simple command. The default behavior of MacBookPro while attaching an additional screen is to mirror it. You can change the other settings once you are logged in. Mirror screen was not working with my screen because of resolution issue. I had to switch it an additional/external monitor so that I can used it.
Solution!!!!
I had to toggle the display to move the login screen to additional monitor. The simple and easy command to do this task is given as under:
Command + F1
Give the above command on your broken MacBookPro and you will have the login screen on the additional monitor so that you can login. Apple users must be aware with this command but the users like me can waste 20 – 30 precious minutes.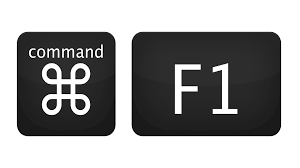 I hope this will help to save some very precious minutes which can be utilized at a better place to do something productive. If you like this post, please share it with your social media contacts.
Please read the disclaimer about our website.
The information provided on https://www.windowstechupdates.com is completely on AS IS basis. Make sure you have the backup before applying the instructions given on https://www.windowstechupdates.com. Working on a test environment is much better before performing any instructions on your production environment. Almost every post of https://www.windowstechupdates.com is tested in a test environment.