How to Deploy SSTP VPN on Windows 2012 R2 Server in Azure Environment
Everyone knows that Azure is a very stable environment and is available almost 99.95% of the times. If you are looking for a good, working and reliable virtual machine, I would recommend to go for Azure environment. Azure and other cloud providers don't allow GRE protocol required legacy VPN services so you need to find another protocol. SSTP type of VPN can be a very good option in this regard because it will work using the SSL certificate and using port 443. Most of the servers already allow HTTPS port. Follow the under given instructions to install, configure and deploy SSTP VPN.
Install IIS role on your Microsoft Windows Server 2012 R2 under Azure Environment and open the 443 port from outside using the Azure portal. If you need help to create an endpoint on new Azure Portal please follow this post:
After Successful installation of IIS role please create a self signed SSL certificate for the server and enter the CN which you will use to access the server from outside world. This is important otherwise you will get an error while connecting to the VPN server and it will not allow to connect. if you own a domain name and can afford an SSL certificate from a trusted authority, please purchase and setup on the IIS server.
Go to server manager and install the routing and remote access services under remote access server role
After successful installation go to Routing and Remote Access Services and start the configuration process.
Add the IP Address pool in the server configuration under IPV4 so that all the users can get the IP Addresses.
Select the appropriate SSL certificate so that it can be used while connecting to the VPN server.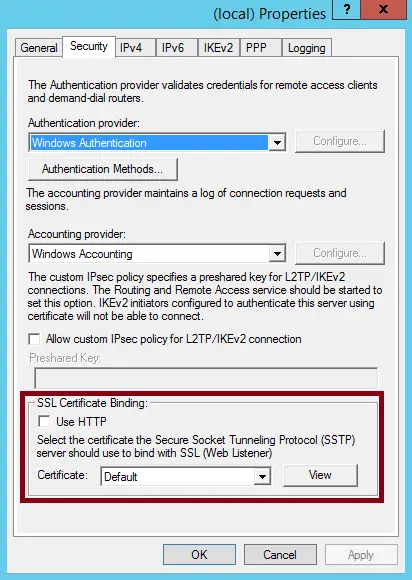 Choose the correct SSL certificate with the name you will be using to connect to the VPN server otherwise you will get an error message of CN is not matching.