Microsoft Hyper-V offers live migration of the Virtual Machines from one hardware to another hardware. It will move the running virtual machine from one server to another. Above error occurred while I was moving my virtual machine from an older server to a new Dell R720 server which came with new processor type. A complete error with error code is given in the snap below: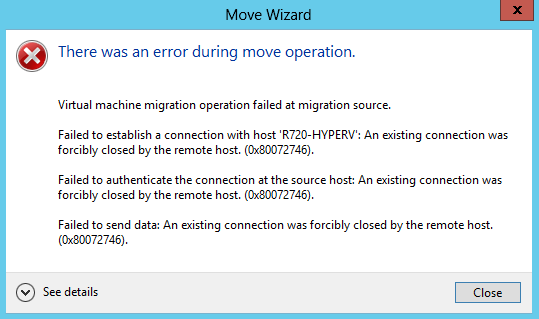 0x80072746 error code means the remote host closed the connection. The reason why the remote host closed the connection is because of the security and type of processor being used in the configuration of the virtual machines.
please follow the under given instructions to change the Virtual Machine Settings:
Select the virtual machine which you want to migrate to new server
Go to settings
Expand the processor and go to compatibility
check the check box "Migrate to a physical computer with different processor version"
Follow the under given instructions to change the configuration on Hyper-V settings:
These settings will be configured on the server where you are moving the virtual machine machine.
Open the Hyper-V Manager
Go to the Hyper-V server
Right click on it and go to Hyper-V Settings
Expand Live Migration and go to Advanced Features
Choose Kerberos under authentication protocol
If you found this post helpful please share it with your friends!!!