How to Manually Change Date and Time of Virtual Machine Configured on Hyper-V
Date and time of windows server deployed on Hyper-V automatically synchronize with host server. The manual settings can be changed directly from control panel. These settings didn't worked for me. There are multiple solutions provided for this problem but none of them was working for me. Registry tweaks provided by Microsoft are also not working.
Why I need to change the date and time?
I have a test machine and the quality assurance department want to test the application with back date. The settings in control panel change the date and time for few seconds but update it back to current.I applied under given instructions which didn't worked for me:
Stop the windows time service
Registry hacks to remove the NTP server
disable the network/internet of the virtual machine
Nothing given on Google worked for me except the under listed instructions.
The virtual machine is hosted on Hyper-V. Hyper-V has many integration services. These services provide basic functionality to virtual machine. One of these integration services is Time Synchronization.
Manually Change Date/Time of Virtual Machine
Open Hyper-V Manager
Right click on the virtual machine
go to settings and then go to integration services.
uncheck the Time synchronization.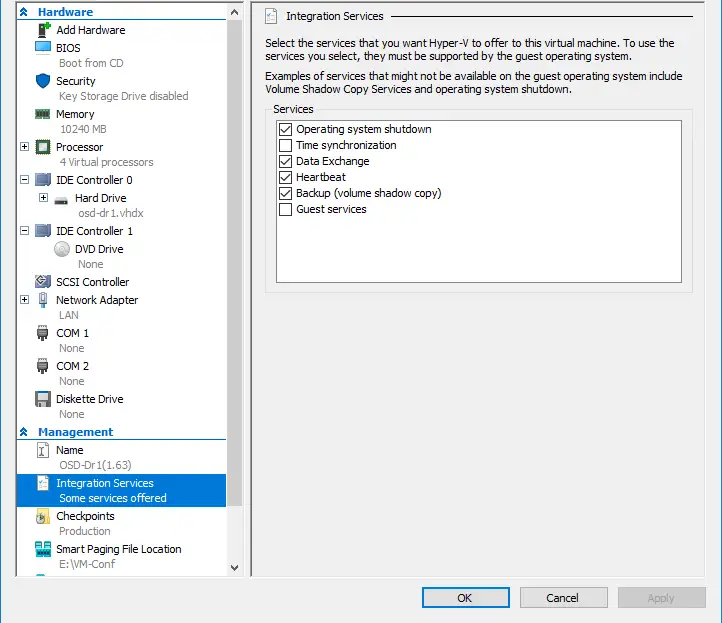 Time Synchronization make sure that the time of virtual machine is synchronized with host. The host machines are mostly configured with local area network NTP or some internet NTP. To change the date and time of your virtual machine manually for some testing. You need to uncheck this setting under integration services of Hyper-V manager. Restart the virtual machine. It will let you change the date and time manually. The registry hack and other tweaks didn't worked for me.
All the instructions provided on windowstechupdates.com are as is. Windowstechupdates.com team will not be held responsible for any loss. Please test the settings in lab or local environment before applying on production. Better safe than sorry!!!!!!!