Your Organisation has deleted this device
Consider, you are trying to login to your official Microsoft 365 account having Exchange, OneDrive. Suddenly, you get this message (your organisation has deleted this device) on your screen. You haven't resigned, you are active employee and having full control on your tasks. What would you do? I am sure you will contact your organization administrator to get it checked. The administrator will blindly try to start looking at Intune and will surely let you know your machine is missing from the Intune devices. It's not listed in the devices under your account of Microsoft 365. Maybe after a long search the administrator will go to Azure AD and open your account and check all the properties and devices registered or joined under your account. Hopefully the administrator will get the issue that you registered your device to Azure AD not Joined it.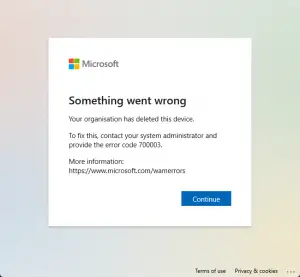 Error:
Something went wrong
Your organisation has deleted this device.
To fix this, contact your system administrator and provide the error code 700003.
More information:
https://www.microsoft.com/wamerrors
There are multiple solutions provided for this error, let's start by get the current status of the system:
Open Command prompt with administrator rights/Open PowerShell with administrator rights (right click on start menu to choose this option))
Type dsregcmd /status
You will get a detailed information about enrollments
I got under listed information when I used above command to get current status:

Solutions!!
1. Using any web browser
In my case this machine was not Intune/AzureAD joined. The user was trying to access OneDrive and was getting this error. He accessed his account using a web browser like chrome/Edge/Firefox. It resolved the isssue.
2. Disconnect the account and reconnect
Go to Account Settings on your account and disconnect the problematic account and reconnect.
3. Good old solution from Microsoft!
You can restart your computer for a couple of times. This process will ask you to provide credentials again to refresh the authentication token. Actually, this one worked for me.
All above solutions are for the systems which are only AD register not AD Joined.
The solution for AD Joined system is listed below:
Go to account settings under system settings of your windows 10/11.
go to Access work or School
disconnect already connected account (Make sure you have a local administrator account) (You also need to login with that local administrator account to perform this step)
Reconnect the system using official (Work or School Account) to join the AD.
For more solutions, please visit this URL:
This Microsoft URL has multiple errors and their solutions which might help someone for a different problem.
The user may also encounter another error that this device is already enrolled. As you know that there are two types of enrollments:
AD joined
AD registered
if the system is AD registered and will try to re-register or join the Intune (Azure AD), this error will occur.
Error 8018000a: "Something went wrong. The device is already enrolled. You can contact your system administrator with the error code 8018000a.
A solution provided by JOCHA.se (apply at your own risk!!!)
The errors given in this article are applied to Operating systems which are listed below: