Windows 10 Wi-Fi Sense: A Feature or a Security Threat
Windows 10 Wi-Fi Sense is no doubt a very exciting feature but it can cost you a lot in terms of security breach. Most people are moved to new Windows version which is Windows 10 and there are lot of new and exciting features given in this version. One of these features is called windows 10 Wi-Fi sense, the main purpose of this feature is to get into your friend's network or any other network by only giving password for once and when you get near to the hot spot it will automatically be sensed and connected. All these profiles and Wi-Fi network settings are directly saved to Microsoft network which makes it vulnerable when they are in the process of retrieval. I can understand that same settings are available in windows 8.1 but they were not very much used and appreciated by the techs.
It works in a way that once you are done configuration of your Wi-Fi at home Windows 10 ask you if you want to share your password with your friends like on Facebook or any other network, if you press yes, it will share it with the your friends and when they come near to your hot spot windows 10 automatically sense it and connect it with your network.
The major thing which can happen in this regard is that someone who is actually not your friend can send you a friend request and upon accepting he can have complete access to your Wi-Fi password and what good he/she can do it to use your internet for free.
If you are more concerned about your local Wi-Fi network, you can turn off this feature and disable it. Under given are the instructions to turn off this feature on Windows 10.
Go to start menu of Windows 10 and go to Settings
Go to Network and Internet
Go to Manage Wi-Fi Settings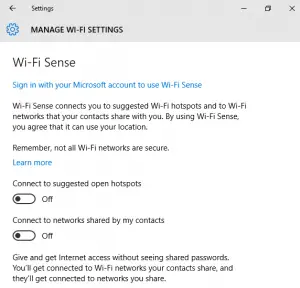 Turn off the above two features if you don't want to share it with your friends or contacts.
This is a very good feature if you don't want to be bothered about the internet connection sharing with your friends every time they visit you but can lead it to be an open hot spot for your friends to exploit it.
Share your experience about this feature.