Microsoft Windows 11 security updates October 2022
The Windows 11 security Updates 2022, the first major update for Windows 11, has been published. It introduces several features and enhancements, most of which are targeted at enhancing the security of the operating system. In addition to activating more security protections by default for new devices, Microsoft has introduced new capabilities, such as Smart App Control, to provide additional levels of defense against a variety of assaults. A complete list of released patches is available at this URL:
Most important security update (as I am an IT administrator) is about Group Policies https://support.microsoft.com/en-us/topic/october-11-2022-kb5018418-os-build-22000-1098-62c0cb53-7562-4089-8672-5c80845932c1. The Windows 11 2022 security Update enables IT, administrators, to further tighten security on all of their group's devices, even when they are not connected to the internet. Let's examine each of the brand-new features in further detail. Microsoft has set out on a quest to improve the performance and efficiency of its feature and quarterly cumulative updates for customers. The Windows 11 2022 Update will now prevent new Windows PCs from installing drivers that are known to have potentially exploitable security flaws.
So here are some latest security updates that windows 11 have made in 2022. I have put all these security updates in a single post. You can visit windows to know all updates of this month.
Smart App Control
Smart App Control is one of the major security-related additions to the Windows 11 2022 Update, and it is designed for home and small business users who do not want to pay for specialized security services. It utilizes an artificial intelligence model powered by 43 trillion daily security signals to decide whether a particular app is safe to download and use. Smart App Control may lessen the risk that malware may infect your computer by blocking potentially malicious programs from opening on your PC using a model that is regularly updated.
Although this technique is less interactive than Windows Defender Application Control, which is intended for business users, the basic capabilities are the same. In addition, Smart App Control is accessible on all Windows 11 client devices; no special SKU or organization membership is required to use it.
Protections against vulnerable drivers
Despite their normally limited access to the Windows kernel, device drivers are being utilized as attack vectors. Microsoft has made a few modifications to the Windows 11 2022 Update to increase security against driver-based attacks. On new Windows 11 devices, Hypervisor-protected code integrity (HVCI), which runs Kernel Mode Code Integrity (KMCI) and prohibits modifications to kernel mode code such as drivers, will be activated by default.
Microsoft is furthermore publishing a blacklist of known-vulnerable drivers. With the introduction of Windows 11 in 2022, manufacturers will no longer be permitted to sell machines with drivers patched for known security flaws. This is a huge increase in terms of protection against assaults launched by drivers.
Greener features
The new Windows 11 upgrade from Microsoft is intended to simplify the process of decreasing your computer's energy usage and carbon footprint. When a device is plugged in, powered on, and connected to the internet, and regional carbon intensity data is available, Windows will schedule updates for times of day that may reduce carbon emissions. Microsoft has also modified the default power settings for Sleep and Display in an attempt to reduce emissions from idle devices.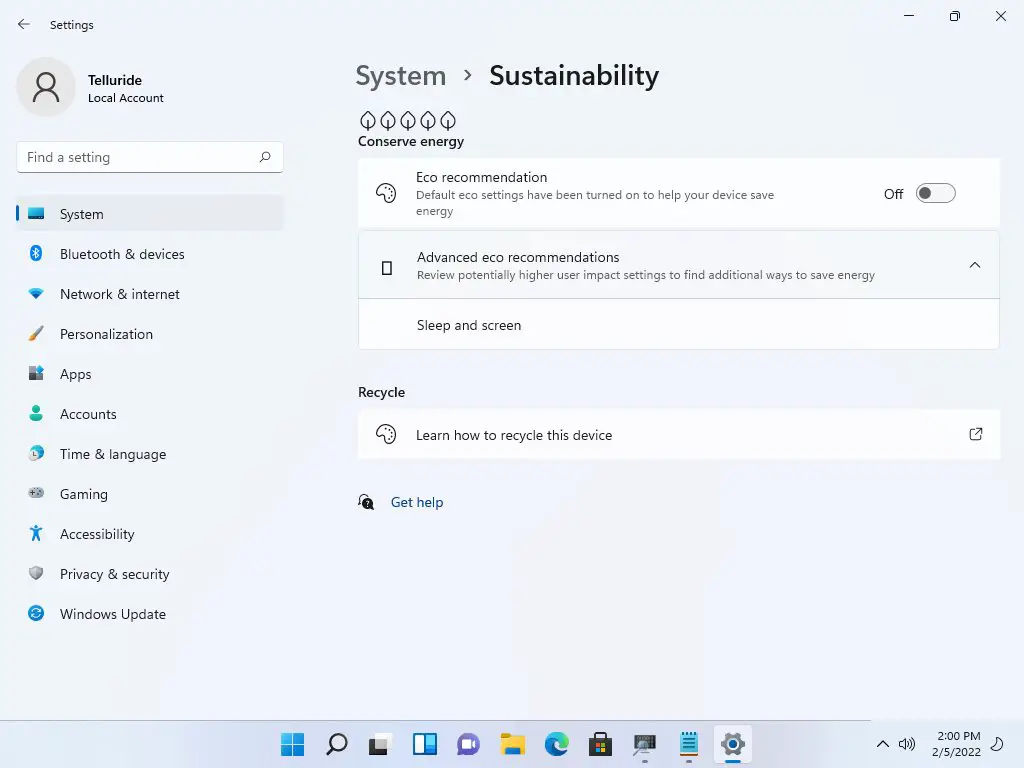 Anti-phishing
With the use of machine learning, the new SmartScreen feature can identify when a user enters their Microsoft credentials onto a dangerous website and then provide informative warnings about the danger. When it comes to getting initial access to an organization's IT infrastructure using stolen credentials, phishing remains the most popular attack vector.
As with other features of Windows Hello for Business, presence detection relies on specialized hardware. If the device has the necessary hardware, it may be set to automatically log in and out when the user enters and leaves a certain region.
Identity protection
Microsoft has included a variety of identity protection and identity theft prevention enhancements in Windows 11 to lower the risk of identity theft. Windows Defender Credential Guard, which employs virtualization-based, hardware-backed security to guard against credential theft tactics such as pass-the-hash and pass-the-ticket, is now enabled by default on Windows 11 Enterprise SKUs beginning with the Windows 11 2022 Update. In addition, it prevents malware from obtaining access to system secrets even while a process is operating with administrator capabilities.
The SmartScreen feature of Microsoft Defender now provides enhanced phishing protection, alerting you if you attempt to input your credentials on a hacked website. If Windows detects that a website is attempting to mimic a trusted service, it may notify you that doing so might expose you to an attack.
Configuration lock
The last new feature, Configuration lock, is pretty self-explanatory and geared at IT administrators. Now that the configuration settings of corporate devices may be locked down, anytime an end-user modifies, the device reverts to its initial condition as determined by the IT department. Because this is possible even when the device is offline, it may be used to assure compliance with business policy and the security of all devices.
Microsoft's choice to add extra security features in Windows 11 PCs is supported by the increasing frequency of hybrid work arrangements, which demands users' ability to feel secure whether working remotely or from home and growing reliance on computers. Microsoft claims it will continue to invest in security so that computer users may feel protected.
Protections against vulnerable drivers
Despite their restricted access to the Windows kernel, device drivers are frequently utilized as entry points for attacks against PCs. Microsoft has made a few modifications to the Windows 11 2022 Update to increase security against driver-based attacks. Windows 11 on new devices, Hypervisor-protected code integrity (HVCI), which runs Kernel Mode Code Integrity (KMCI) and prohibits modifications to the kernel mode code (such as drivers) that might compromise security, will be enabled by default.
HVCI guarantees that the code integrity system inspects all code executing in kernel mode, making it resistant to attack even if a driver is defective. These guards against WannaCry and other malware that use a Windows security flaw to run malicious code.