Remote Desktop Connection: an Authentication Error has Occurred
Remote desktop connection is the most widely used tool to administer the Microsoft Windows Server. You can configure and administer the server remotely without any problem. This gives you a complete control over your server. Sometimes it can create problems like given in the title "Remote Desktop Connection: an Authentication Error has Occurred"
In March 2018 security bulletin CVE-2018-0886 a security vulnerability was identified. This vulnerability was regarding remote session with servers. The server and client must have same patch installed to run RDP session on local or Azure VMs. There might be multiple scenarios in which this error can occur.
Client is updated but the server is not patched.
The Server is patched but the client is not updated
CredSSP encryption oracle remediation Error
You can come across the error given  in the title of this post: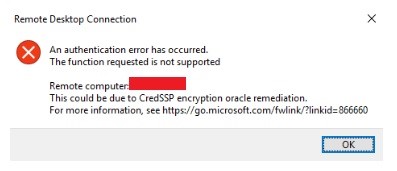 possible solutions of Remote Desktop Connection: an Authentication Error has Occurred are given below.
Solution 1:
From updated client system to gain remote access of server, execute gpedit.msc and browse Computer Configuration / Administrative Templates / System / Credentials Delegation.
Change the Encryption Oracle Remediation policy to Enabled, and Protection Level to Vulnerable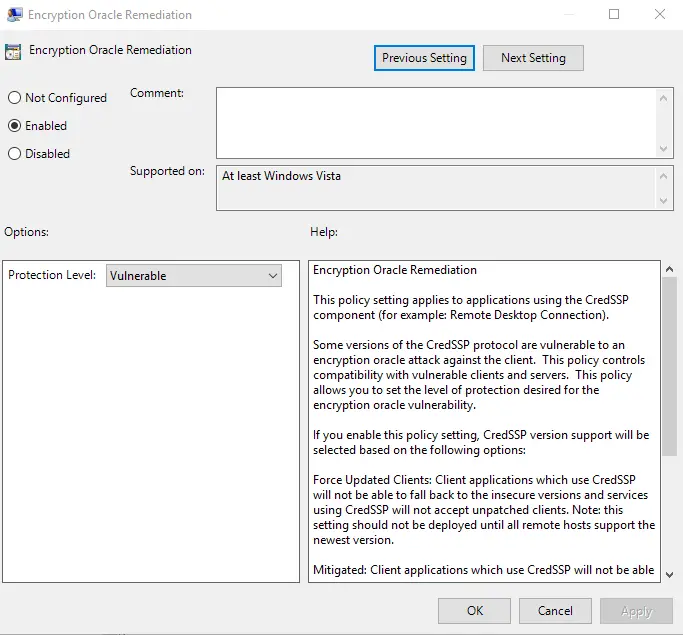 Solution 2:
If you are using Windows Home version and unable to access Local Group Policy Editor, then you can apply above mentioned changes by editing the registry.
Open regedit.msc in Run and follow below mentioned path:
REG  ADD HKLM\Software\Microsoft\Windows\CurrentVersion\Policies\System\CredSSP\Parameters\ /v AllowEncryptionOracle /t REG_DWORD /d 2
Solution 3:
Microsoft has released an official KB on this issue. System administrators must Ensure both client & server side have latest patch installed. By installing most recent updates on Client and Server environments will ensure that RDP will be established in a secure way. Download this patch and apply it on the client and server environment. Follow instructions in below mentioned link:
https://support.microsoft.com/en-us/help/4295591