Windows 11 22H2 September Updates and New Features
Microsoft published Windows 11 22H2, the first significant upgrade to its operating system, in September 2022. Some old features have been updated, several new features have been introduced, and several annoying OS problems have been resolved. In Microsoft 11 22H2 September updates Microsoft has introduced many new features.
Microsoft issued the Windows 11 2022 Update on September 20 as a free update for machines running Windows 11 21H2 (and equivalent PCs running Windows 10) that are known to have a streamlined upgrade process. At a later point, more devices will be included in the update's distribution depending on criteria like hardware eligibility, dependability metrics, hardware age, and other variables. In the first several months of 2023, Windows 11 22H2 will then be completely functioning.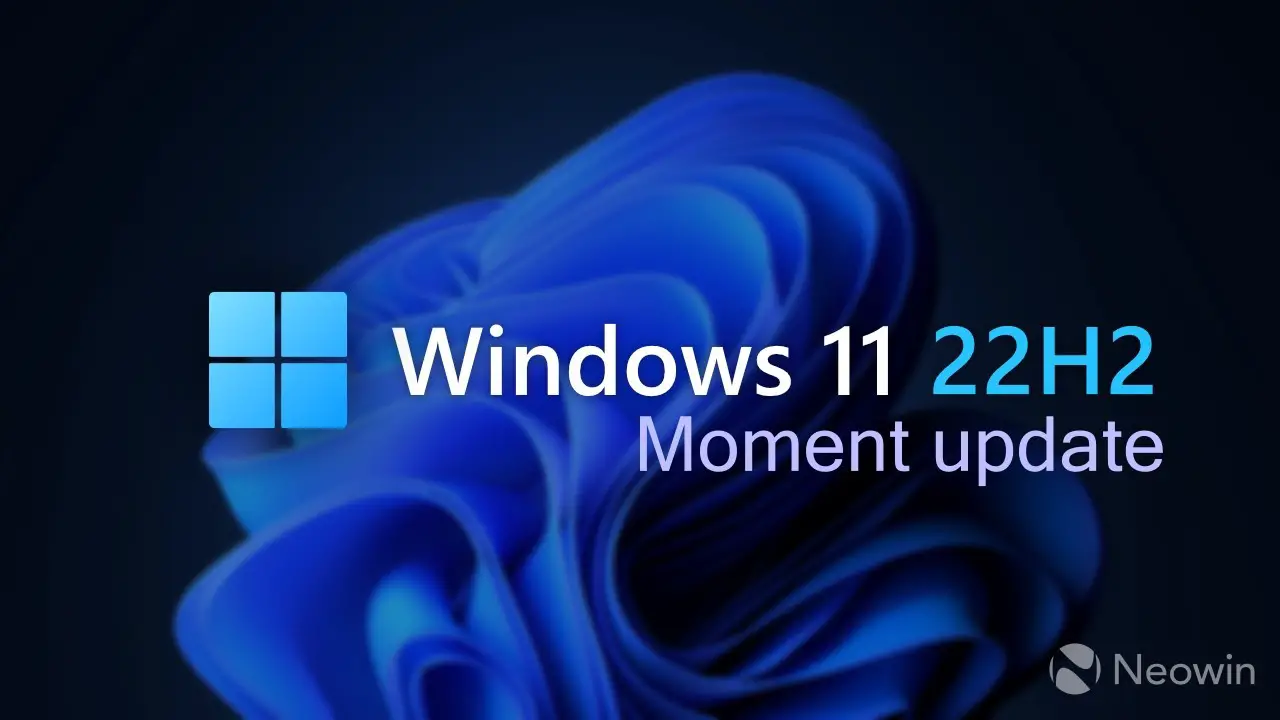 What's new on Windows 11 22H2
The following is a list of the brand-new Windows 11 22H2 features that are presently available to Windows Insiders.
Start menu improvements
Windows 11 22H2 offers additional personalization options to the Start menu's "Recommended" section. While it is still not possible to deactivate or eliminate the feature, the Start settings page now provides three choices for customizing the suggested product quantity and the number of pins shown. To see more pins, click the "More pins" option, which reveals an additional column. In addition to the typical three rows of pins, the "More Recommendations" option displays additional ideas.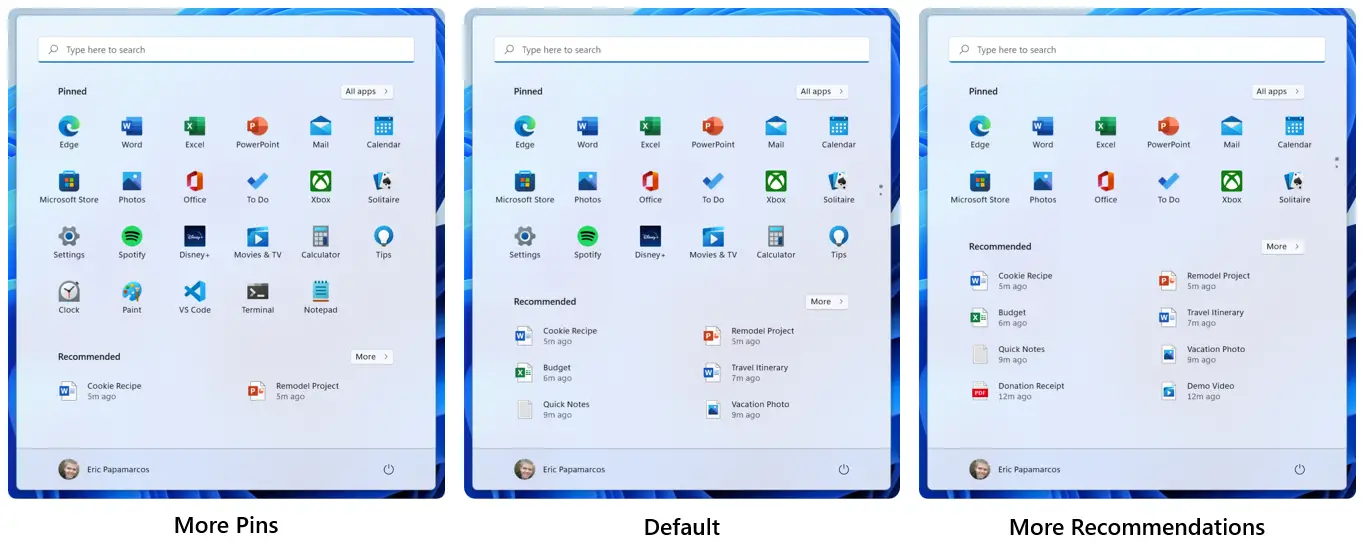 New Start Menu Layouts
Adjustments to the size of the Recommended part of the Start Menu are incompatible with its removal. There are three potential configurations: Additional Pins, Default, and Recommendations. You may modify the Start Menu's layout by navigating to the related area under Settings > Personalization > Start > Layout.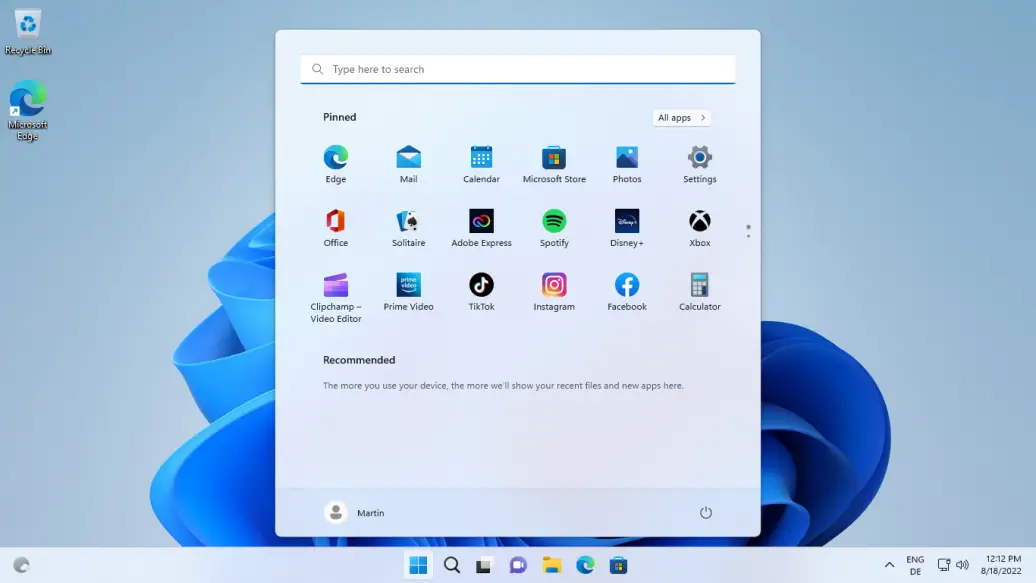 Taskbar changes
Using the mouse wheel inside the volume icon in the Taskbar will now allow you to adjust the volume. On the Taskbar settings page, you may allow or disable the ability to share windows from the Taskbar for applications such as Microsoft Teams.
In Windows 11 22H2, you may now reach the "Bluetooth & Devices" settings page by right-clicking the "Bluetooth" button in the "Quick Settings" flyout. An extra icon has been placed next to the volume control for easy access to the choice. In addition, the tooltip for the volume indication has been changed to incorporate information about the use of spatial sound.
Focus Sessions
Focus Sessions are now a part of Focus, which was formerly known as Focus Assist. A Focus Session is a predetermined time frame during which a timer is shown, notification badges are turned off, and Do Not Disturb is on. Any of these features may be enabled or disabled throughout the session editing process.
The duration of a Focus Session may vary from five minutes to two hours and forty minutes. Through the Clock app, Notification Center, or Settings > System > Focus, a session may be initiated. You may incorporate Microsoft To-Do items in a Focus Session initiated using the Clock app.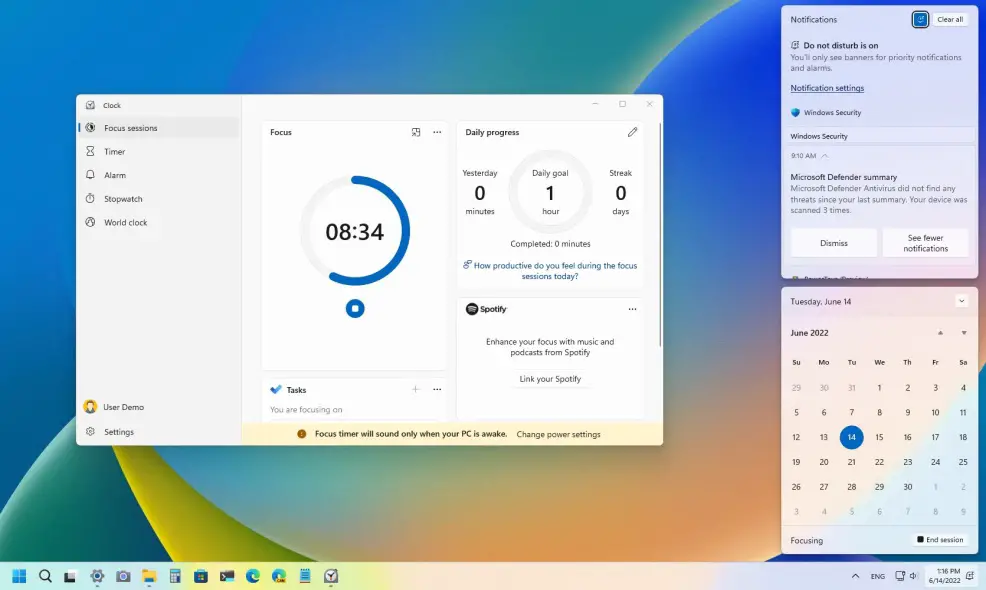 Drag and Drop for Snap Layouts
Windows 11's Snap Layouts are less straightforward to utilize. You may still see the designs by right-clicking the window's maximize button. You may also use drag-and-drop to rearrange a window inside a snap arrangement.
A new handle appears at the top of the screen when you click and drag an active window or app. When you drop a window into this area, a panel will appear to help you quickly arrange the windows. Once you are satisfied with the layout, simply drop the window into place.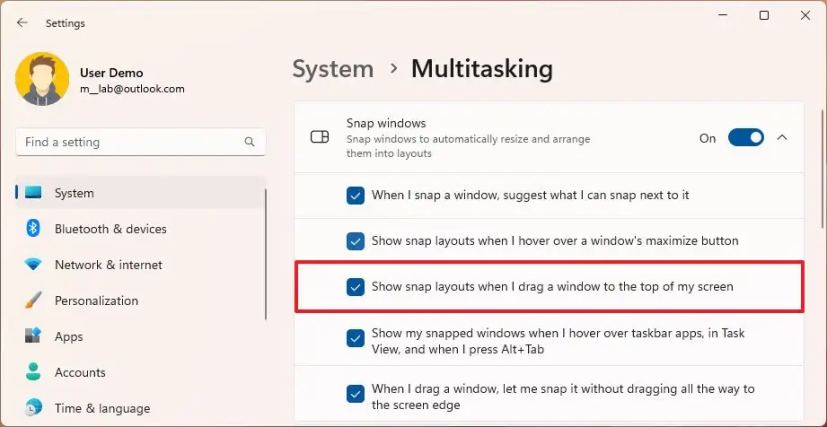 System-Wide Live Captions
Chrome, Edge, and other browsers have supported video playing with Live Captions for some time. This patch enables Live Captions to be shown alongside any video in Windows 11. By hitting Win + Ctrl + L while a video is open and playing, the Live Captions panel may be easily accessed. Moreover, you may enable it in the accessibility options. The floating panel may then be relocated to the desired screen position.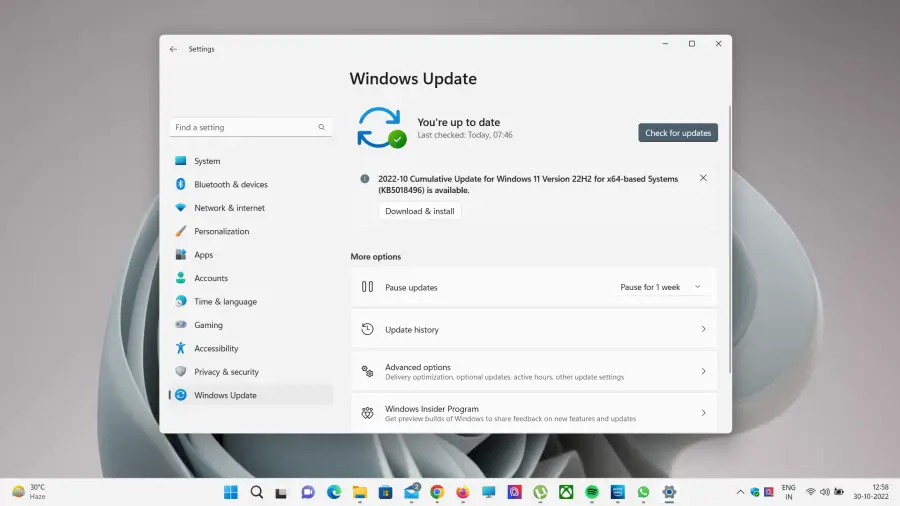 File Explorer Tabs
To assist the administration of several windows, File Explorer offers tabbed window displays. It has been a common request from Windows 11 users, therefore it has been in development for some time. It was not included in the first 22H2 release, but it appeared in the October supplement soon afterward.
Clicking the Add button on the ribbon or dragging one File Explorer window on top of another will add tabs to File Explorer. the same as using Microsoft Edge or any other current web browser to launch new tabs.
Smart App Control
Smart App Control in Windows 11 is meant to prevent dangerous scripts, macros, and unsigned programs from executing. It employs the same artificial intelligence as Windows Defender Application Control to evaluate the security of programs in real-time. Thus, your smartphone is secured before the application has even loaded. Installing Windows 11 from scratch is necessary for adding Smart App Control. So, you may not see it if you just updated from 21H2 through Windows Update.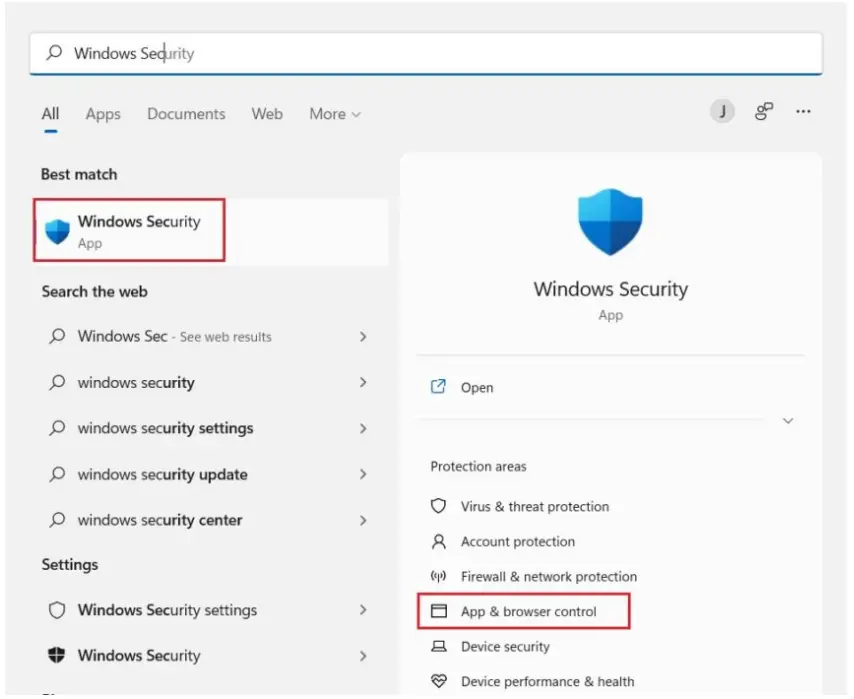 Advanced Phishing Protection
Enhanced Phishing Protection allows you to avoid entering your Windows 11 sign-in password in an unsafe environment. When you input your password into a potentially hazardous website or Windows program, a warning message detailing the threat will display. Additionally, Phishing Protection may alert you if you use the Windows 11 password in an excessive number of other places.
In addition, it may alert you if you enter your password in a potentially dangerous location, such as a text editor. Avoid saving your password in cleartext on any program, including the ubiquitous Notepad, Microsoft Word, and OneNote.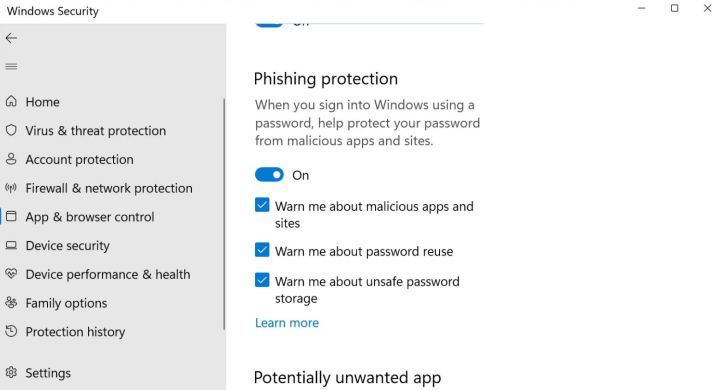 Narrator
Windows 11 includes several improvements to Windows Narrator while using Microsoft Edge to browse the web. Microsoft has made it simpler to write text into edit areas in the most recent version, since the Narrator scan mode now departs quicker. Once a deleted character has been replaced, the Narrator will now read the currently-selected character.
Additionally, the business claims that while you browse the web, you will get additional contextual information. In addition, additional information about lists, such as list levels and precise list indices, will now be read out. For instance, needed radio buttons and edit fields will now be read out as required.