Windows Update Needs Your Help
Windows update needs your help, Windows update hasn't been able to check for new updates for the last 30 days. Go to Windows Update to resolve this issue. This issue can drive you crazy and you can pull your hair for more than a year. Why am I saying this, Your server is completely working fine, all the updates are being installed correctly and on time. You are able to connect internet without any issue. everything seems normal and still you are getting this message on your screen every minute. Despite of doing everything you can't get it away. You can press the close button or go to windows update settings page. if you go to Windows settings and press the button to get the new update and server starts downloading the update still this message will popup on your screen.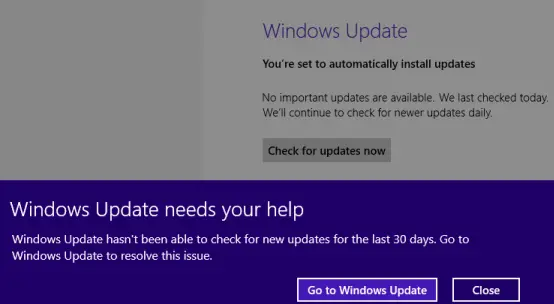 I tried to change the settings of the group policy as suggested by someone on Google but still no luck. the changes i made was configure automatic update to enabled and install automatic updates but nothing helped except under given two things. I can't say if its suppressed but for a couple of hours, its not coming on my screen. under given are the things which solved my problem:
[themify_quote]DISM /Online /Cleanup-Image /RestoreHealth[/themify_quote]
Press windows key + R and enter notepad to Open a notepad. Copy the information between the lines, then paste them to notepad
===========================================
regsvr32 wuapi.dll
regsvr32 wuaueng.dll
regsvr32 wups.dll
regsvr32 wups2.dll
===========================================
Save as abc.cmd
Right click on abc.cmd and run as administrator.
Press Ok to all the dialog boxes to successfully execute this command and get rid of this issue. I hope this will help some to solve his problem and save few moments to do something better than this. Please share it with your friends and colleague to share a helping hand.